Meet the Veterinarians & Team of Fraser Heights Animal Hospital. We're pleased to provide exceptional vet care for your pets.
Please call us at 604-588-4161 to speak to one of our veterinary staff members or use our online form to Make An Appointment
Make An Appointment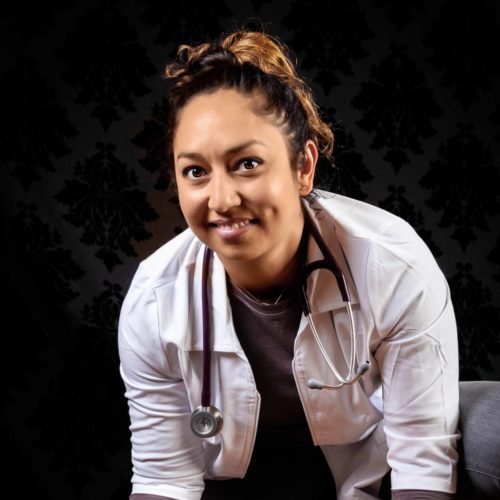 Cindy grew up in Nova Scotia and the tropics, taking home sick farm animals as well as tending to the stray cats and dogs of Bali, where her love for animals progressed into a desire to care for animals full time. Cindy moved to PEI, where she graduated on the Dean's list from AVC in 2008. Shortly after graduation, she worked at a busy mixed animal practice in North Carolina, gaining experience in surgery, treating infectious and chronic diseases, as well as managing an equine breeding program. Missing the mountains and the coast, she moved out to B.C. and joined our team in 2010 and has been a part of the FHAH family since. Cindy continues to pursue her interest in small animal medicine and surgery, focusing on canine orthopaedics and soft tissue surgery. In her off time, she can be found in the woods of Squamish biking some of the most amazing trails in B.C. with her husband, or investigating some hidden paths in the forest with her beloved dog, Koopa. Her cat, Winky keeps a watching eye over them from home, to ensure no more intruders are brought home to the Duff household.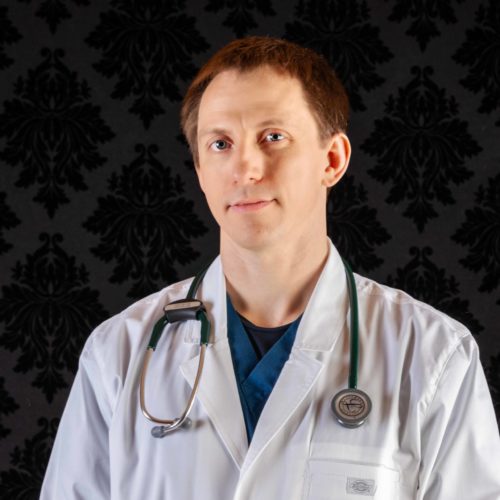 Dax was born and raised in the Lower Mainland, where a love of nature and a menagerie of pets was a part of life. Following an extended detour in Japan, Dax returned to Canada to study animal sciences at UBC, where he completed a Master's in Animal Welfare before heading to the WCVM in Saskatoon. Dax joined FHAH last year after graduating through the pandemic and returning to B.C. with his family. Inspired by his own G.P. growing up, Dax hopes that his passion for collaborative communication helps improve the welfare of his clients alongside their pets. When not working, Dax is kept busy catering to the demands of his Shiba-inu and equally stubborn 3-year-old daughter.
Elaine grew up in Fraser Heights and had always dreamed of becoming a veterinarian. She graduated from the Western College of Veterinary Medicine in 2018 with Distinction, and started working at Fraser Heights Animal Hospital as an associate veterinarian. Elaine has actually been a part of the FHAH team since 2015, spending her summers working and learning in between vet school. During vet school, she especially enjoyed small animal medicine and surgery, participating in extracurricular events and managing the pathology club as the president. Prior to getting accepted into vet school, she graduated from the University of British Columbia with a Bachelor of Science in Applied Animal Biology with Honours. Elaine studied animal science, behaviour, welfare and ethics, often assisting researchers with their projects and working several jobs at a time for experience. She was also an intern at the Marine Mammal Rescue centre for several summers. In practice, she has a soft spot for dermatology, anesthesia and behaviour, and is currently a member of the veterinary Fear Free Certification program. In her spare time, she enjoys outdoor activities, photography and attending music events. Elaine has also recently been participating in dog sports (agility, dock diving) with her spoiled Australian Cattle Dog, Juniper, who she's shared a special bond with since 2018. She looks forward to meeting your fur baby at your next visit!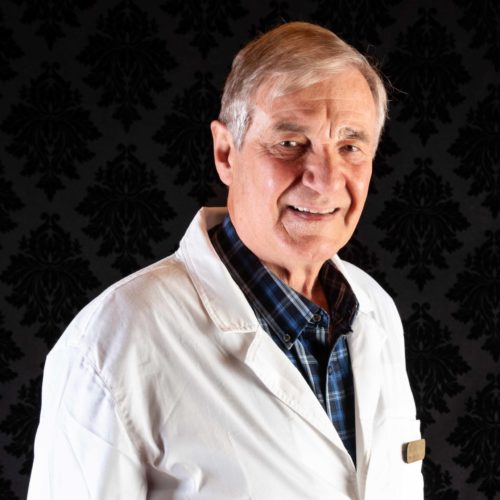 I was born in Vancouver and moved with my family at age one to live on small farms between Langley and Cloverdale.
At five, I owned my first horse and had cattle, chickens, ducks, geese, pigeons, rabbits, turtles, fish, crows, sheep, goats and even a chipmunk. I announced my plan to become a veterinarian when the local vet came to treat our dairy cow, Rosie. I was five years old and fortunately did not know how hard it was to get into veterinary college until I arrived at Guelph at age 19 after attending UBC. Had I known the odds against getting into veterinary college I would likely have gone into the family business selling lumber and building supplies. My parents moved to a ranch in Alberta while I was in veterinary college and I spent my summers being a cowboy, an experience I really enjoyed.
I met my wife and business partner, Teppy at Guelph and we had three children who all worked with us when they were growing up.
Luckily, I have been able to spend my life treating animals, have enjoyed working with many talented, hard working veterinarians, and a large number of dedicated support staff. I have been able to share the lives with thousands of caring pet owning families. So many wonderful stories. I feel very fortunate indeed. Thanks to all the people and animals who have given me such a fulfilling career.
Dr. Arad moved with his wife, two daughters, dog and cat from Israel early in 2007 to join our team. He graduated from the Saint Istvan University, Faculty of Veterinary Medicine in Budapest, Hungary in 2002. His foci include orthopedic surgery, intensive care and cardiology. In his free time he enjoys hiking, cycling, kayaking and spending time with his family.
Dr. Jackie Armstrong grew up in Edmonton, Alberta and knew she wanted to be a veterinarian by the age of 5. After completing a Bachelor of Science in Agriculture at the University of Alberta, she went to Saskatoon and graduated from the Western College of Veterinary Medicine in 1996. After graduation, she completed a one-year small animal medicine and surgery internship at the Veterinary Teaching Hospital at Oklahoma State University. She and her husband moved to BC in 2001 and have raised their 2 daughters here. They live in Langley with their dog Blueberry and their cat Chestnut.
Jackie joined the team at Fraser Heights in 2008 and now works part time so she has time to pursue her other passion of horseback riding with her equine partner Lou.
At the clinic, Jackie enjoys most aspects of veterinary medicine including soft tissue surgery, and internal medicine. She has a special interest and love for geriatric feline medicine.
Kathryn was born and raised in North Vancouver, and from an early age loved all things animal. Dr. Doolittle and James Herriot were her favorite people for many years. She obtained a Bachelor of Science (Agr.) from UBC, and graduated with distinction from the Western College of Veterinary Medicine in 1987. Kathryn started at Fraser Heights Animal Hospital in 1988, and has very much enjoyed working with the amazing staff and wonderful clients, some of whom have brought many generations of pets to FHAH.
Kathryn resides in Surrey with her husband, youngest son and Juice, her Golden Retriever. She and her husband love traveling in their motor home and are particularly interested in visiting and scrambling through any and all caves they come across. Their granddaughter is another source of delight and is a constant visitor in their lives. Juice and Kathryn enjoy the challenges of competing in Rally Obedience, and love the time they spend together working as a team.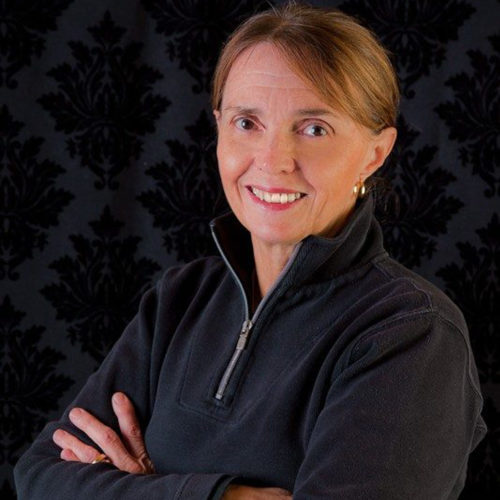 As co-founder of the practice, Teppy has many responsibilities. She takes a personal interest in the well-being of our clients and their pets. Many of the innovations from the décor and furnishings to the stickers for the children are from her creative mind. She listens to suggestions from clients and staff and implements many of these as enhancements to how we deliver our service.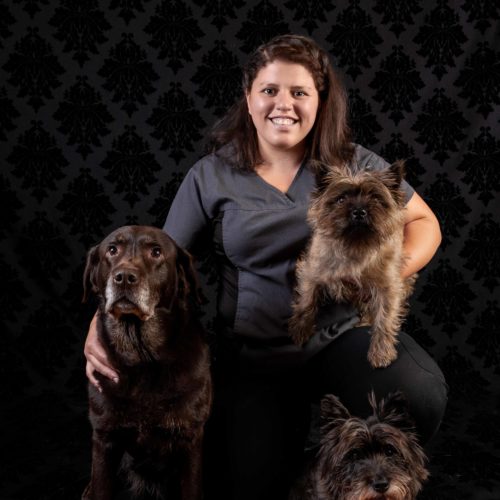 Tamara started working at Fraser Heights Animal Hospital in 2015. She completed her schooling at Douglas College. Tamara loves educating clients on Cushing's Disease as her Cairn Terrier, Belle has been diagnosed. Her other work interests are completing lab work, reproductive, holter monitors, and performing lion shaves. Besides Belle, Tamara has a plethora of animals at her 5-acre hobby farm. Some notable mentions are her other Cairn, Kida, her Labrador, Leia, and her two horses, Garth and Dolly. Outside of work, Tamara lives for horse and dog shows.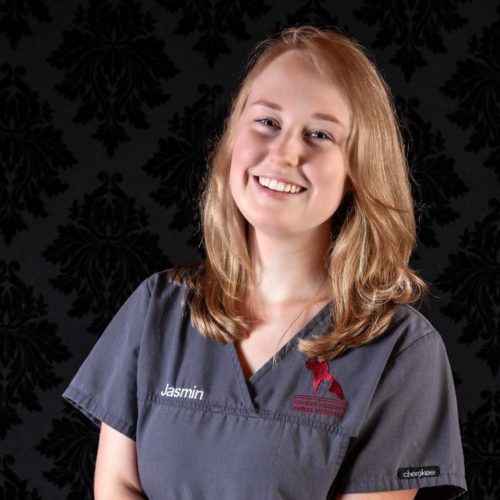 Jasmin joined Fraser Heights in April 2014. She loves talking to clients and hearing how their days are going. In her free time, she enjoys traveling, hiking, and being bossed around by her cats.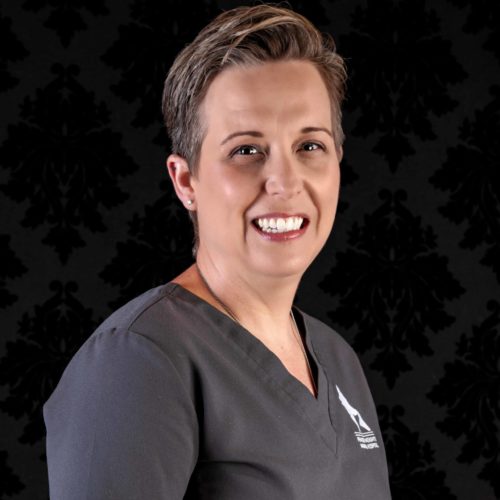 Maria has been with Fraser Heights Animal Hospital since 1990. Starting as a kennel assistant, she has worked in almost every position in this practice (but enjoys reception the most), as it allows for connecting with our wonderful clientele. She has had the pleasure of meeting a vast array of clients and their 'fur babies' over this period. She has a busy household, with "Kash", her most beloved Golden Retriever, and "Charlie & Lydia" her trouble-making and always tenacious Devon Rex cats.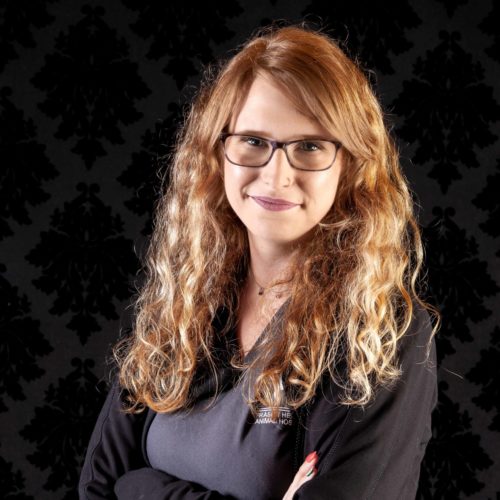 Gen started working at Fraser Heights in 2020. She likes long walks on the beach, pina Coladas, and getting caught in the rain.
Bonnie has recently started at Fraser Heights and is super excited to have joined the team! I was born and raised in the lower mainland. She graduated from UFV and Riverside College. Bonnie is married with 2 adult sons, and she lives with her husband and a small menagerie of pets. Bonnie became a receptionist at an animal hospital after a career working with people as a community support worker, because she loves animals and talking with people about their pets. She is interested learning about animal behaviour. On her free time, she enjoys hiking, riding, dog-walking and apparently sweeping pet hair (I must enjoy it, I do it all the time). She is hiking the West Coast Trail again this year and her dream hike is the Pacific Crest Trail.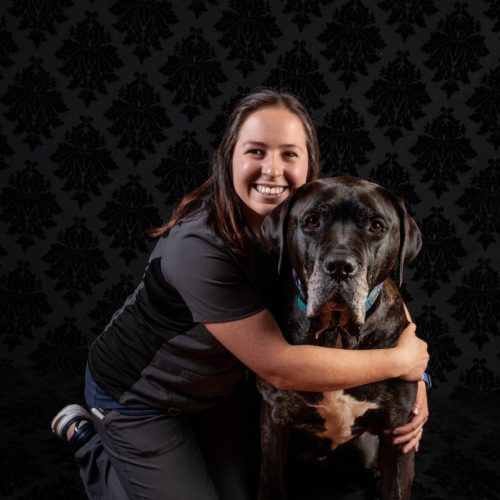 Jolene joined Fraser Heights Animal Hospital in 2008 just prior to graduating from an animal health technician program. Jolene has special interests in anesthetics, animal behavior and also works at a pool for animal aqua rehabilitation. Her family includes 4 cats and 3 dogs. She enjoys spending time with her 2 Huskies and Border Collie hiking and swimming.
Corina has been with Fraser Heights Animal Hospital since 1991. Along with regular assistant duties she specializes in animal dentistry and training of other assistants. She has experience in the care of a large array of small pets as well as some wildlife rehabilitation. Adding to her household of 3 cats, 4 birds, and a dog she had a daughter in 2010. Other interests besides pet care are gardening, home decor, and hotrods. Corina and her black Lab "Gretel" currently participate and compete in rally obedience.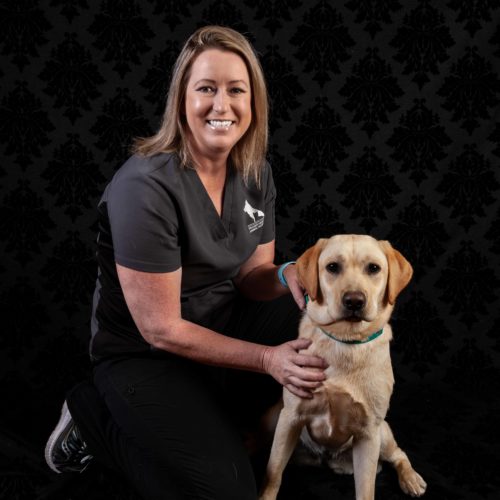 Hello, my name is Carley! I have been working at Fraser Heights Animal Hospital since I was in high school, and they are all like family to me. I work part-time with Fraser Heights because I am also an LPN who works at Surrey Memorial Hospital. I enjoy all aspects of animal care and have a special place in my heart for geriatric patients and dentistry. Outside of work I love to camp, play slowpitch, golf and be with my fur babies, Ember the yellow lab, and Gavin the cat.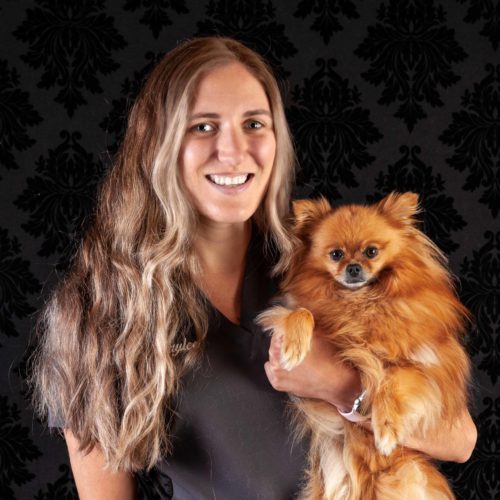 Hey, my name is Kaylee! I was born and raised in the area and animals have been my life since I was a little girl. I'm the one who will most likely always memorize you and your pet's name! I graduated from West Coast College from the Veterinary Assistant program in 2014, I did my practicum at Fraser Heights Animal Hospital, and I've been with them ever since! I have a special interest in behaviour - especially canine! When I am not at work you will most likely catch me outside walking/hiking or camping with my two dogs Owen and Scarlett!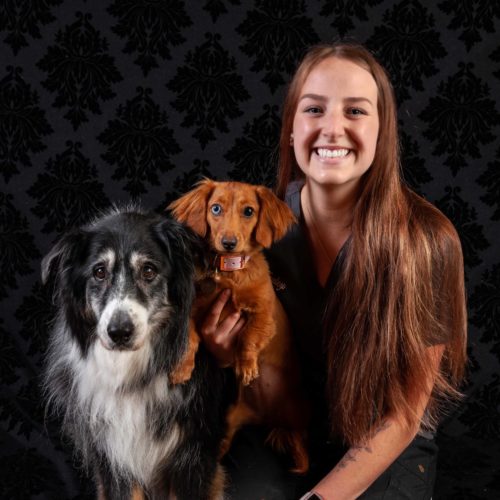 Hayley has been part of our team since February 2018 where she worked throughout her schooling at Douglas for the VOA program. She grew up in Surrey and has always had animals her whole life and her love and passion for them lead her to want to pursue a career in the Veterinary industry. On her days off she enjoys spending time with her 3 animals, Blaze, Ocean, Benny, as well as camping and other fun outdoor activities. If you ever feel like dropping off some snacks, Hayley prefers pizza and chicken nuggets 😉
Michelle joined Fraser Heights Animals Hospital in 2020. Born in Burnaby, raised in Surrey. She completed the VOAC program at Douglas College. Also had previously worked at a Doggy Daycare which inspired her to want to work in the Veterinary Industry. She is a proud owner of two cats, Mack, and Squid.
Fiona has been with Guildford Pet Foods since 2020. Born and raised in Vancouver. She graduated with a Bachelor's in Health Science at Simon Fraser University but wanted to pursue something different while still being able to juggle being a mom to two. Learning about veterinary diets and the importance of pet health through nutrition has been an amazing journey. Although she has no pets in the family yet, she hopes to rescue one in the near future. During her spare time, she enjoys long walks daily and spending time with her family!